MOVING FROM THE HEART: Somatics & Sufi Egyptian Movement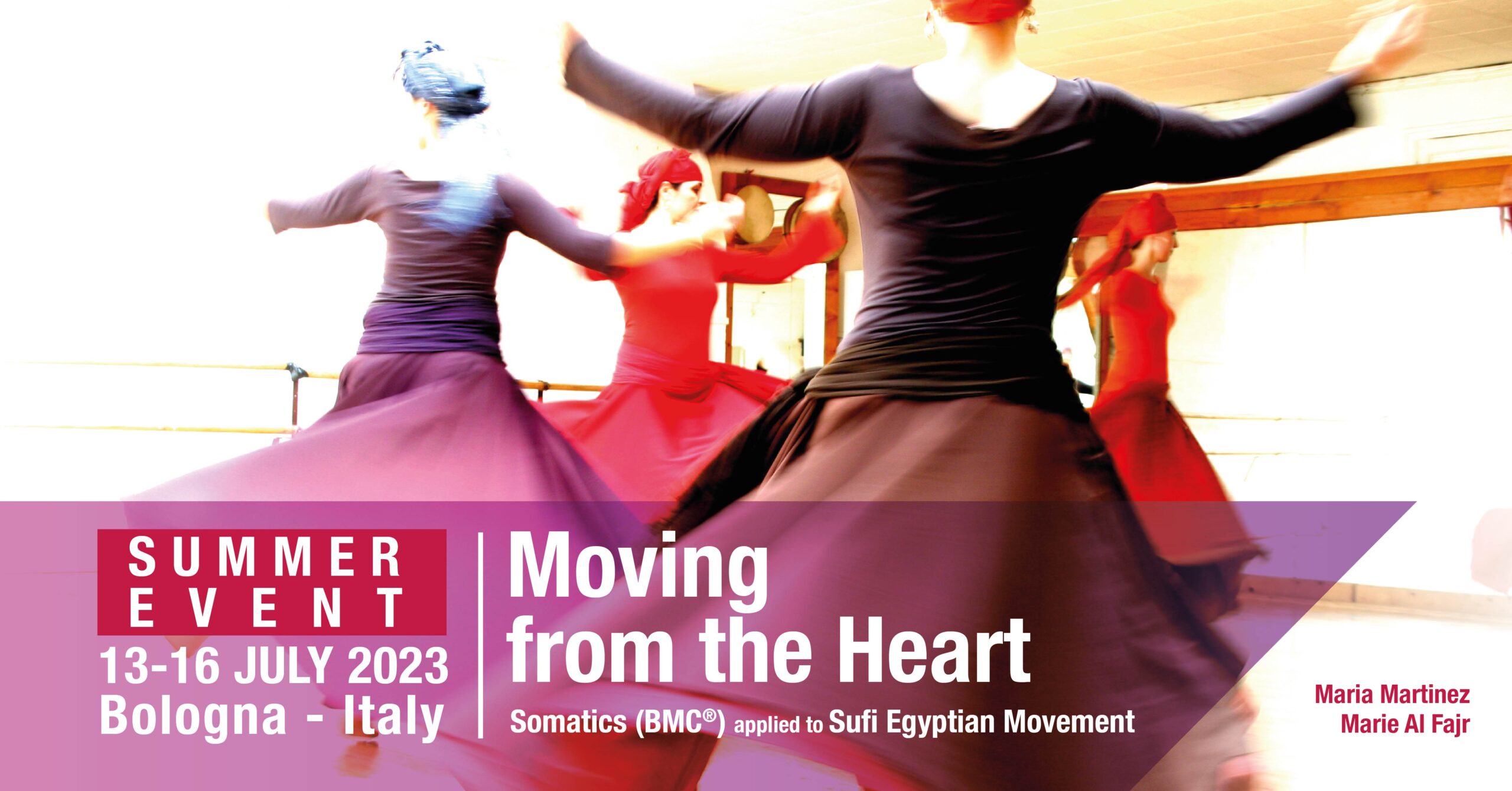 An innovative and clear learning process with the support of Body-Mind Centering® applied to Sufi Ritual Dances of Egypt. 
 Welcome to the source of an ancestral ritual body language – what we could call a « body wisdom » in movement with its strong current relevance-. A timeless soft and powerful holistic, 'easy' mobilization of the body underlying transformation and a bigger range of movement possibilities in space, an awareness to rhythms and pulsations in us and around us, an awakening of the body, of the senses, of our consciousness and heart to fully be, and to getting to what the sufis would call « Hâl » (the state of being) within the joyous moments of the dance/trance.
Welcome to explore and experience within Body-Mind expression throughout this fascinating theme of the heart.  Visiting the embryology of our pulsating heart to our inner circulation, we will travel through the maps into the territory of bodymind for: -understanding fully, -finding coherence, -indepth meaning and relationships in different aspects. Through opening perception, awareness and consciousness, it's an invitation to move from inside, awakening the soul to body relationship to embody the forms and the energy.
"The only lasting beauty
is the beauty of the heart."
Jalal ad-din Rumi
The heart as a spiritual symbol in Sufism and even further in time for Ancient Egyptians, the heart as an emotional symbolic space. The heart, as an anatomic structure, an energetic center and a support for movement.The heart  will  be our focus of explorations for those four days  in Bologna.
Ahlân! Welcome!
Orario
10:00 – 18:00
(2 hours brake)
Dove
Zambra Studio Via Lugo 10 – Bologna 
Cost 350€ early bird before 16th June (membership included) 380€ after 16th June.
Deposit fee 175€ (non refundable except in case of force majeure). 
To register, please request a form and send it back signed, together with your deposit.
Language:
In English and Italian
Teachers
Marie Al Fajr & Maria Martinez
Both dance teachers Maria Martinez (BMC® Practitioner and Teacher) and Marie Al Fajr (Somatic Educator through Movement – BMC®) with more than 30 years experience in the field of Egyptian dance and movement and are happy to share their experience for your personal development.