LO SPAZIO DI MEZZO: Mesoderma, Tessuto Connettivo e Interconnessioni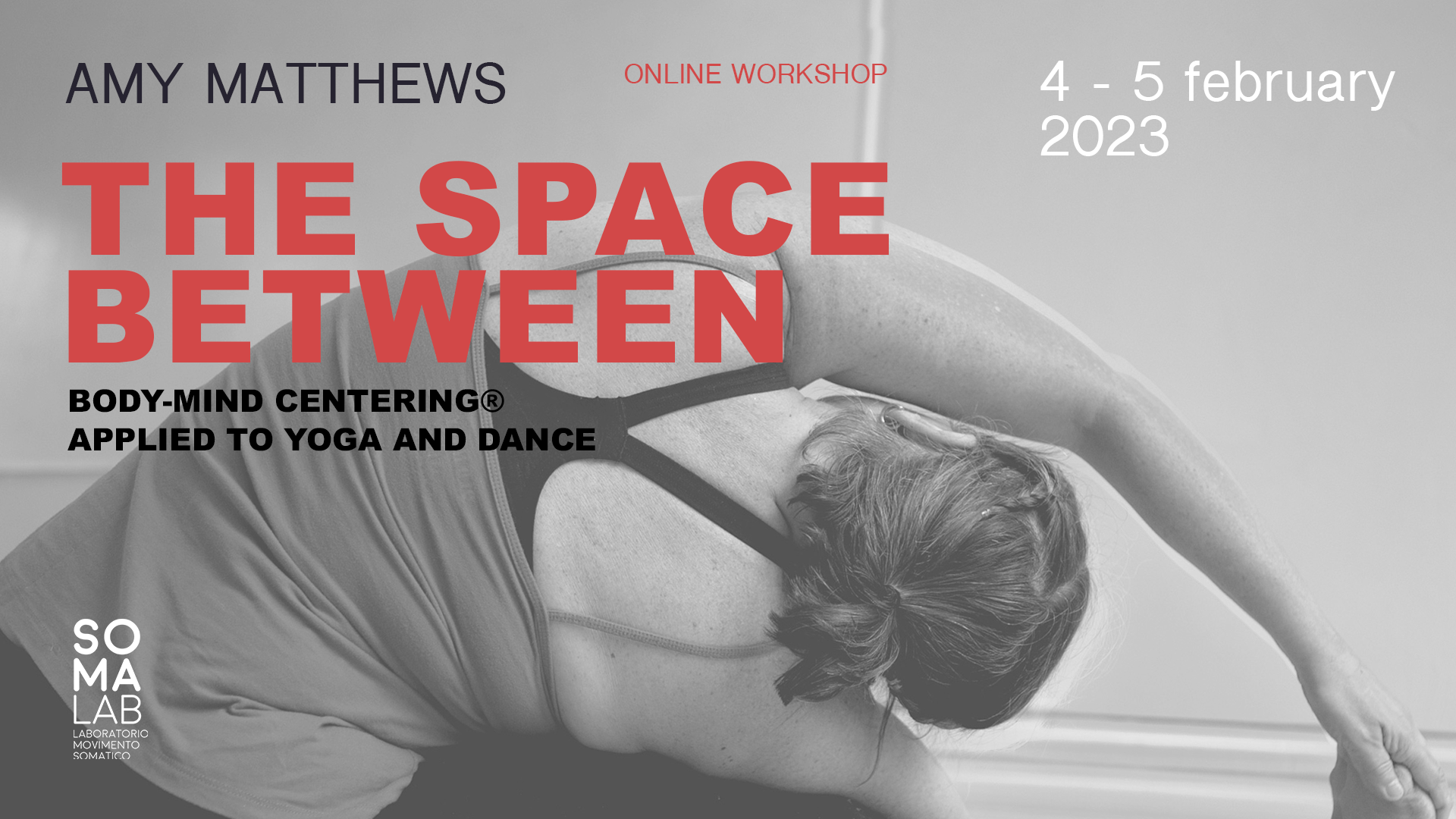 8 ore di seminario online
Se ci occupiamo delle relazioni nel nostro corpo – tra le strutture, tra i sistemi, tra i tessuti – potremmo avere un'esperienza diversa da quella che abbiamo se ci occupiamo delle "cose" che vengono collegate. Il tessuto connettivo stesso svolge un ruolo relazionale nel nostro corpo: collega le strutture tra loro e crea e definisce spazi e cavità.
In questo workshop esploreremo le origini embriologiche del tessuto connettivo nel mesoderma e come il processo di creazione e definizione di spazi e relazioni offra possibilità di esperienze diverse del nostro sé, dei nostri movimenti e delle nostre scelte.
Orario
15:00 – 19:30
(30′ di pausa)
Costo 130€ con iscrizione con pagamento della intera quota entro il 31 di Dicembre 2022 inclusa la tessera associativa.
Costo dopo il 31 Dicembre 150€
Il seminario verrà registrato.
Lingua: In inglese e italiano
Amy Matthews
Amy Matthews insegna movimento dal 1994. È analista certificata del movimento con metodo Laban, professionista del Body-Mind Centering ed educatrice del movimento in età evolutiva (Infant Developmental Movement Educator, IDME)
Autrice del libro YOGA ANATOMY
https://www.ilgiardinodeilibri.it/autori/_amy-matthews.php
THE SPACE BETWEEN: Mesoderm, Connective Tissue & Relationship
Body-Mind Centering® applied to Yoga and Dance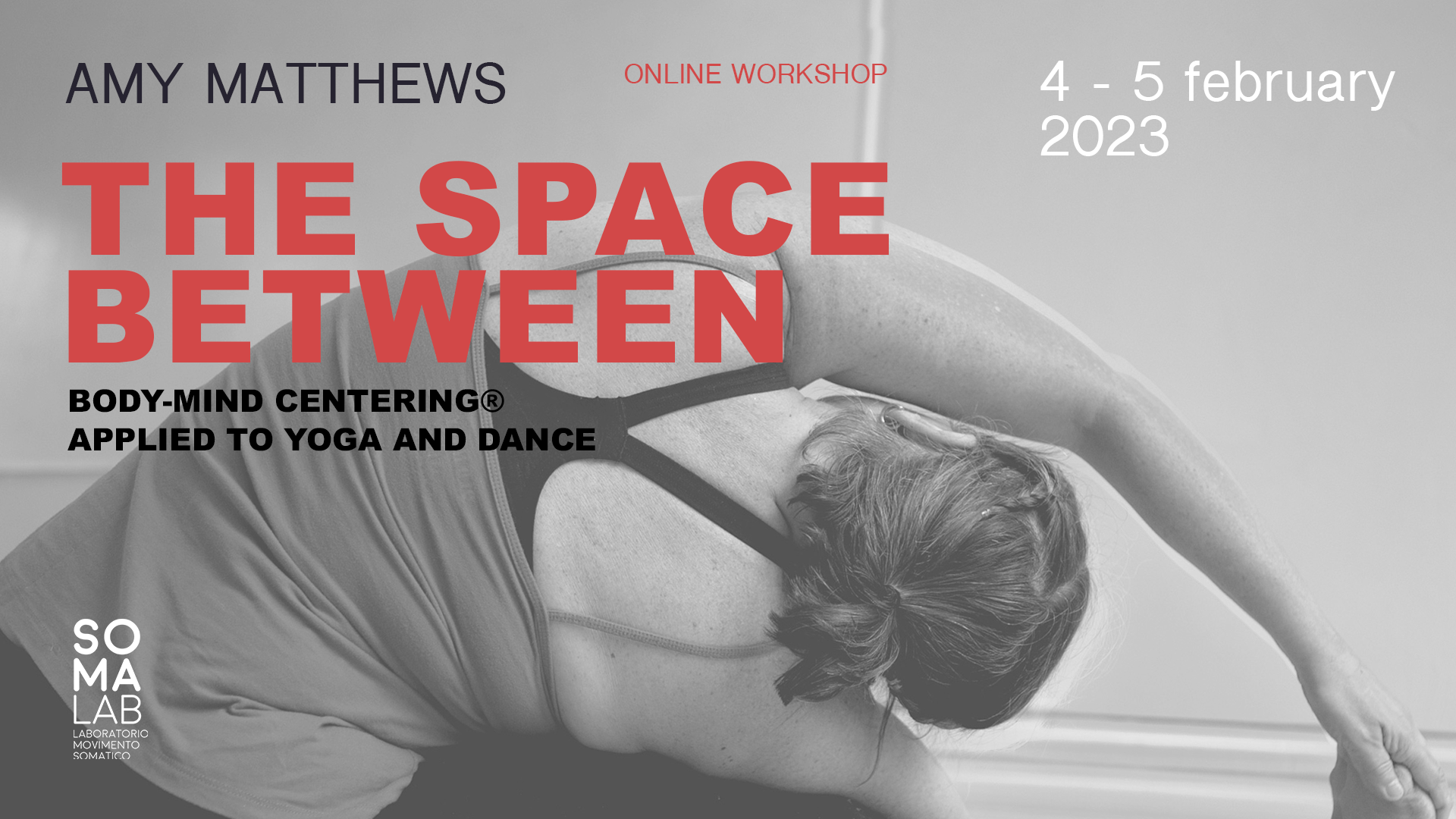 If we attend to relationships in our body – between structures, between systems, between tissues – we might have a different experience than if we attend to the 'things' being connected. Connective tissue itself plays a relational role in our body: it connects structures together, and it also creates and defines spaces and cavities. 
In this workshop we will explore the embryological origins of connective tissue in mesoderm, and how the process of creating and defining both spaces and relationships offers possibilities for different experiences of our selves, our movements and our choices. 
This workshop will include informational sessions on embryology, somatizations and invitations to explore in movement. No previous experience with Body-Mind Centering(r) or embryology is required.
Time
15:00 – 19:30
(30′ break) CET
Early Bird Registration until December 31
Workshop cost: 130€ registration before December 31th. 150€ if registered after.
ATTENTION: Tuition cost do not include the money transfer cost
Discounts available for Practitioners and Teachers of BMC. Register by one month prior the dates of the worksop.
The workshop will be registrated.
Send a mail or whatsapp to receive the form.
Wire the complete fee for the workshop, the association fee is included.
Send the filled registration form and bank statement of the wired amount to martinezpenalba@gmail.com
DUES SHALL BE WIRED TO:
Paying easily through PayPal if you have a PayPal account paypal.me/orienteinmovimento – daramad@gmail.com
BANCO BPM Account Oriente in Movimento bonifico SEPA
IBAN: IT61 G 05034 37131 000000200864
SWIFT: BAPPIT21H86
Note: If you live in the United States, we will tell you how to proceed